Edumed - Medical Billing Training Software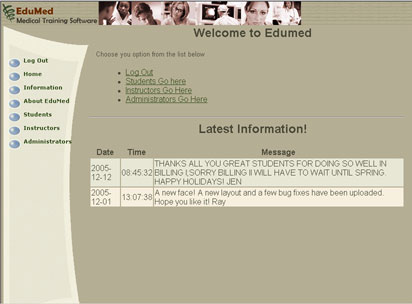 What is Edumed?
In the medical billing industry, software costs a great deal of money. For those schools that are trying to teach students how to use that software, the cost can be prohibitive; $10,000 a year or more in some cases, and this is at the educational discount! Edumed helps solve this problem by providing a low cost training platform that schools can actually afford.
How much does it cost?
Edumed allows you to create your own student accounts. It costs only $100 a month! A minimum of 6 months initial sign-up is required to cover setup costs. The price stays the same no matter how many students you have. Do the math, and you'll find that is quite a savings! The proceeds help cover cost of maintenance and tech support.
What features does Edumed have?
Edumed is built to be as simple as possible. Students can log in and fill out HCVA forms online. Then they can submit these forms to the instructor. At that point the instructor can fill out EOB codes to accept or reject the form and send the form back to the student. The student can then fix his/her mistakes and re-submit the form to the instructor. This all happens electronically!
I can do that with a copy machine and some paper, why do I need your service?
Yes, you can do it manually, but then the students never get exposed to electronic processing. The exposure to computers and the practice of filling things out online will better prepare them for when they go out into the real world and are forced to submit their paperwork via computer.
What do I need to be able to use Edumed?
Let's make this as simple as possible. You just need a computer with a browser. Everything is contained within the web page interface. Nothing to install, no updates to worry about. Any patches or fixes are applied directly to the web site and any changes are reflected next time your page refreshes. It's that simple!
How do I sign up?
You will need an account created. As such, it is more efficient to contact us directly to deal with payment and account activation. Feel free to phone us at (360) 417-6844 or email us at computermagic@hotmail.com